Dieu Donne, a Beninese immigrant who lives in Chicago's South Side, emigrated to the states because he wanted an opportunity to earn a better education.
"When I got there, I saw change. It was different. It was not like my hometown," Donne says. "I'm very happy to make this knowledge of the United States. Chicago is over-the-top [compared to] Cotonou." [Benin's largest city and economic capital].
Studying English as a Second Language at Truman College, Donne says he also has a part-time job as a server in an African restaurant on the city's north side. He commutes there from his residency at 55th Street and Wabash Avenue.
While Donne says he is troubled by the issues of drugs and guns in his neighborhood, he also says he's eager to stay in the states in order to earn his master's degree.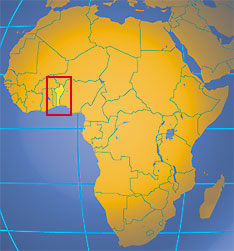 Though Benin is a stable West African democracy, located in between Nigeria and Togo, the country was a victim of a Ponzi scheme in 2010.
In August of that year, a company called Investment Consultancy and Computering Services convinced Beninese citizens, politicians, and businessmen, to invest in an opportunity to make money off investing in cheap land
The result was a loss of $180 million for the country, significant because most Beninese live off $2 a day. Calls for the impeachment of Benin's president, seen in a picture with members of ICCS, were made.
Because the country is so small, and doesn't have an influx of refugees, immigrants like Donne find it difficult to find a community of fellow Beninese when they come to the states. But Donne says he was able to integrate himself into a small community church, who referred him to immigrant advocacy organizations.
"They provide you assistance and they help you," Donne said, referring to organizations like the United African Organization, who said they'd help Donne find a more full-time job.
Bobby Dagnon, also Beninese, moved to Chicago in 2008, and saw there wasn't much of a Beninese community in the city of Chicago. He sought to change that.
Dagnon, president of the Association of Beninese of Illinois, a non-profit organization incorporated in 2008, says he formed the organization to try and keep track of Beninese immigrants so that they could be better serviced in the city of Chicago and its surrounding areas.
Dagnon says he did not have formal numbers, but estimates the number of immigrants his association knows have settled has increased per year by 200. In 2011, Dagnon says there are about 500 Beninese immigrants in or around Chicago total.
Keeping official track of Beninese immigrants, as well as where the Beninese have settled, is difficult, for multiple reasons.
"Just talking about the Beninese community, it's kind of hard to gather every one together because they have to work twice or three times as hard to make better lives for themselves," Dagnon said
Like most new immigrants, Dagnon says Beninese immigrants work upwards of 80 hours a week in order to provide not only for themselves, but also to earn money for other family members in order to help them emigrate as well.
But because Dagnon says the community is growing stronger, more and more Beninese are coming to, and settling in Chicago.
"People come to Chicago, in the last three years, because they've seen a change in how the community's organized. There are a lot of Beninese here, and they try to move here," Dagnon says.
Other West African immigrants, don't find community foundations in Chicago working as well as the one  Dagnon describes.
Linda Efafuah, a Ghanian immigrant who's worked at the Makola Supermarket, an African grocery store located in Chicago's Uptown neighborhood, for 16 years, says few people emigrate from Africa unless they have a support system that can financially assist them.
The immigration process is rigorous, Efafuah says—if immigrants have a citizen family member bringing them over, they must submit to a DNA test proving the genealogy.
Efafuah says family members must also file paperwork, pay hotel costs and airline costs, and help find work for the person emigrating—all considerable challenges that single individuals would be foolish to undertake on their own.
Efafuah says her parents helped her emigrate from Ghana twenty-two years ago, and were able to do so because they were citizens. Efafuah says she'll have the money to help her son, who is still in Ghana, in five years.
"It's not like with Mexico, where you can drive or skip over. You can't just wake up and say I want to travel," Efafuah said. "You have to file papers with the American embassy. You have to do DNA tests to prove you're related."
Since there's little, if any, armed conflict in West African countries like Ghana and Benin (at least compared to war-torn countries like Sudan and Burundi) Efafuah says those nation's immigrants don't get refugee status.
As a result, Efafuah says few West African immigrants are present in Chicago and that any West African communities in Chicago –the most prevalent of which in Chicago Efafuah says is Nigerian – are not as strong as they could be.
"In [Ghana], there's no fighting. There's no refugees. They're immigrants, but they're no refugees," Efafuah said.
Darwensi Clark, associate director of Refugee Family Services And Refugee Community Service at the Heartland Alliance, echoes Efafuah's notions.
"It's important to remember that immigrant communities are working through the goodness of their hearts," Clark said. "The reality is that the community, having an established community numbers-wise, is the first step to figuring out how to pool resources [to help emigrate people to the U.S.]."
Clark says for immigrant populations to truly surge, there needs to be a population that's been present for five to seven years or longer, so that they may network fresh immigrants into jobs.
While Clark states that Heartland helps refugees, and not immigrants, Clark says Heartland has not served a person of Beninese origin in four years.
Mary Lynn Everson, senior director of the Heartland Alliance's Marjorie Kovler Center and Refugee Health Program, says the center helped a Beninese couple two years ago, but that they've since lost touch with them. Everson also repeats Clark's statements about the value of a previously settled community.
"Sometimes it does help if there was a previously settled community," Everson said. "[Immigrants and refugees are] not planning to leave. They don't have this all mapped out. They're either bought out of detention, or they leave very quickly.
"If their family says, 'go to Chicago,' then they might go there," Everson said.
Meanwhile, Paulo Bombe, a South African refugee who owns and operates African Safari Imports, a specialty gift shop in north side neighborhood Edgewater selling goods from many African countries, including Benin, says the West African community in Chicago is strong.
However, Bombe characterizes Chicago's West African community as being mostly Nigerian and Ghanian, in part because those countries are Anglophone—English-speaking, in other words.
Bombe's description of Chicago's Beninese matches up with Dagnon's characterization—mainly of a slowly increasing population.
"There are Beninese here now, but not in large numbers, because it's Francophone," or a French-speaking country, Bombe said.
Rowan Edbe, a Togo-born immigrant who's been in the States for ten years, says that African immigrants from French-speaking countries often have difficulty finding work because of the language barrier, even if they are hard-working and personable.
Additionally, Edbe, who works at home as a foreign language sales representative for a Canadian company, says because immigrants will endure a two-hour or more commute to make money, they often don't have time to work on improving needed language skills.
"As soon as you know it, two years have passed by, five years have passed by, and they've worked very hard, but have been unable to improve themselves," Edbe said. "Regardless of what you want to do here, it's in your best interest to be able to communicate and express yourself."
Edbe says he helps West African immigrants through personal connections, and through his church, because he was helped by religious communities when he first emigrated to the States.
Dagnon, for his part, says his organization is putting together a census to measure Chicago's true Beninese population, and that a community meeting for Chicago's Beninese on Chicago's West Side will take place in November.
In 2011, the Office of the United Nations High Commissioner for Refugees (UNHCR) says there were 442 refugees who came to the United States. The UNHCR reports a total of more than 7,100 refugees in Benin.