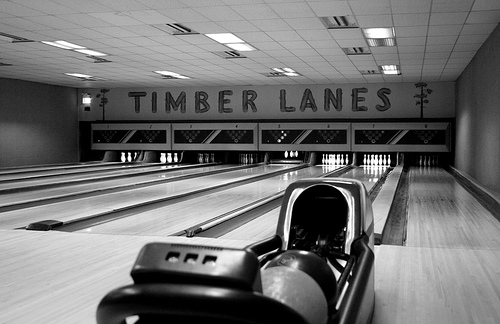 The glorious rumble of pins striking wood sounds off as bowlers hit their targets at Timber Lanes on W. Irving Park Rd., where owner Bob Kuhn is offering Chicago residents a bowl down memory lane with old time bowling and a close knit community.
Kuhn and his wife, Karen,  bought Timber Lanes bowling alley in 1985. The establishment was originally a bar. The Kuhn's purchased it by way of buying up the sixteen shares of the business in increments.
The bowling alley, one of only twelve left in the Chicago area, houses eight classic wood lanes with manual scoring and a full bar. The building itself has a rich history–the original lanes of the alley were made from wood saved from the Chicago fire and the establishment was one of the most popular speakeasies in the Midwest during the prohibition era of the 1920s.
This year the bar was home to another historical event in Chicago, when it became the make-shift campaign office to the underdog and winner in the race for 47th ward alderman–Ameya Pawar.
For Pawar and Kuhn, introduced through a mutual friend,  it was a meeting that influenced the fate of an aldermanic hopeful in the best way possible.
In the 47th Ward, Kuhn had previously supported opposition candidates for alderman who were running against long-time incumbent Eugene Schulter, so his support for Ameya Pawar's run for office wasn't surprising.
"We had no voice," said Kuhn of the previous administration.
According to Kuhn, Pawar plans to hold open forums and set up committees that will serve the best interest of the ward and its citizens.
"The problem with most politicians is greed" Kuhn said. He was thrilled to hear that Pawar told him he plans on cutting his own salary in half to cut back on the office's excessive and irresponsible spending.
Kuhn was first introduced to politics by his parents who actually held "coffees" in the 1960s, hosting at their home such political figures as Donald Rumsfeld, who was heavily involved in both of the Bush administrations.
"When it's in front of you your whole life it becomes natural," Kuhn said of his political involvements.
The Kuhns plan to continue supporting Pawar throughout his term in office and beyond.
"He's like one of my children now" said Karen Kuhn of their new alderman and close friend.
Bob Kuhn also plans on keeping the deed to Timber Lanes until he retires, which he said won't be until at least age 65. Whenever it is he will be sorely missed by workers and customers alike.
"He's more of a father figure to me" said Chris Hernandez, 25 an employee at Timber Lanes since he walked in off the street at twelve years. Hernandez plans on working at the lanes "until the place is gone."
Related articles